---
Home Page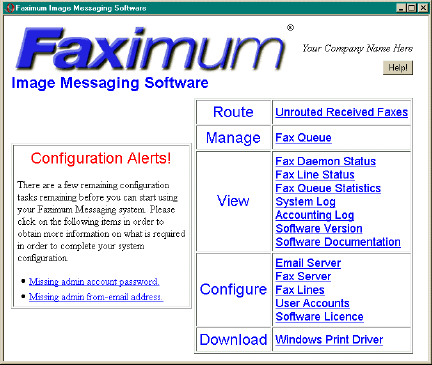 The FMS home page is divided into two areas. On the left ("Configuration Alerts") will normally only appear when you first use FMS and will guide you through the configuration steps that are needed before you can start sending and receiving faxes using FMS. In the example above we show only a couple of remaining configuration item but the list below shows all of the possible alerts and links to the sections in this manual that describe the issue in detail. On the right are the various screens available. Note that the above screen shows the links available to an FMS user with admin privileges (see "User Privileges" on page 76).
Users without admin privileges will see a subset of these choices as shown below.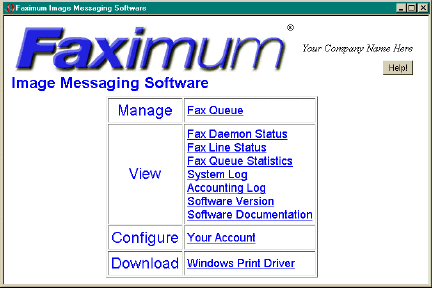 For more information on these various screens, either select the screen of interest and then press the Help! button or see below.
The following lists the six different configuration areas that need to be addressed immediately after the installation of the FMS software.
to specify your company identification information that will appear on the cover sheet and elsewhere
to specify the serial communications port (i.e. the /dev/ttyxx special file) that the fax modem is connected to
missing admin account password (page 204)
to specify the admin account password to protect access to the FMS administrative functions
missing admin from-email address (page 204)
to specify the email address from which email from the FMS administrator will originate (so that faxes from this user will be accepted by the FMS server)
to enable the operation of the faxsched daemon which is responsible for scheduling all outbound faxes
to configure your email server (i.e. sendmail or Postfix) to recognise email with a FAX= address and to pass these messages to the FMS server for delivery
You ought to address all of the configuration alerts before allowing users to access the system. Click on each link in the configuration alert box and complete the requested function. If you have any questions about the configuration required merely press the Help! button on that page.