---
Faximum Messaging Server, Administering a
All of the key configuration and administration functions for the FMS are accessed by using a web browser (Netscape Navigator/Communicator, or, if nothing better is available, Internet Explorer). This is referred to as the FMS webadmin interface.
FMS includes its own web server that is accessed at the same domain name as used when sending email to the FMS for delivery by fax.
For example, if you have assigned the name fax.company.com to the FMS then merely enter the following URL from your web browser:
http://fax.company.com:7437/
When you browse this URL you will see a page that looks something like the following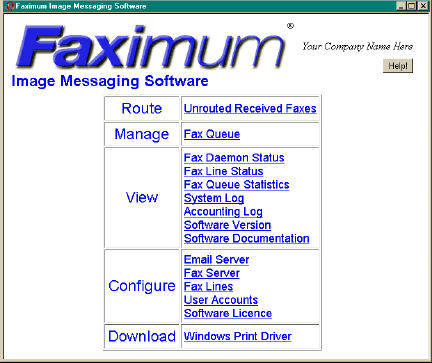 Section

Webadmin Function

Details

Screen Shot

Route

Unrouted Received Faxes

 

Manage

Fax Queue

View

Fax Daemon Status

 

Fax Line Status

 

Fax Queue Statistics

 

System Log

Accounting Log

Software Version

Software Documentation

Configure

Email Server

Fax Server

Fax Lines

User Accounts

Software Licence

Download

Windows Print Driver

 
Note that many of these items require a user name and password to access (see "User Account, Adding/Modifying a" on page 75) for information on how user names and passwords are assigned.

When the system is first installed the only user name is admin and there is no password needed. You ought to put a password on the admin account at your earliest convenience.

© 2000 Faximum Software Inc.